Being a parent isn't comparable to loving your significant other or your own parents. The love that is born as soon as you become a parent, is indescribable, which I am sure I'm not the first to tell you that. Do you know what no one prepared me for though? The absolute guilt and betrayal I felt to my first born when her sister was born.
No One Tells You
I went months and months stressing, asking myself "How will I have room in my heart for two when I feel like my first takes up my whole heart" She literally did. I could not fathom loving anyone or anything else, because my heart was fully occupied. No vacancy here. Everyone reassured me that you do. Mothers did it everywhere after all, your love doesn't cap out at X amount of children…right? Sure enough, my youngest came and here I am, overflowing with a heart full of love and I could not be happier. But something that happened that no one mentioned, that no baby book or parent/mommy blog spoke about was the guilt I felt for even having a second baby.
When my eldest daughter came home after I had her baby sister, I was a blubbering mess. I think I may have actually scared her a bit.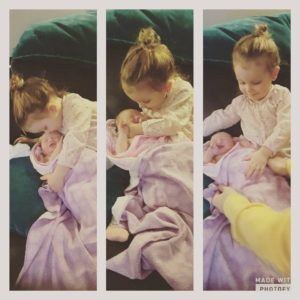 Sean was filming her come home from daycare and he was saying for her to come meet her baby sister.Well, let me tell you. Seeing your 2 year old baby directly after giving birth to your newborn, well she was a baby no longer. I hugged her and she was a little girl. Where there use to be cute squishy arms and cheeks were replaced with the face of a little girl and slender skinny arms of a child. She was so big! It was like she had grown overnight. I was bawling and could not calm down. postpartum hormones + introducing your older child to the newest edition = Bananas.
Mom Guilt…Everywhere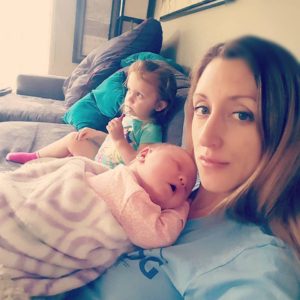 How could I have another baby while she was at daycare? I was immediately overcome with guilt. It was a tough couple days if I am being honest. Newfound territory that I thought I could trek but I felt lost. The learning curve was steep my mommas. Not only did I feel the guilt towards my eldest because she was no longer my only and she didn't have a say in it, I also felt guilty for my youngest because she didn't get the special one on one time her older sister got when she was born. You know, the uninterrupted nursing with Netflix on. The early mornings with coffee and your newborn sleeping on your chest. The absolute refusal to put your baby down because well, they are only this little for so long. The skin on skin naps and baths together. Crawling and rolling around on the floor with her, encouraging play and devoted focus to her rolling over. All those moments happened, but it was with one eye on baby and the other on my toddler ohhing and awing over her newest dance move or her demand for a snack. Nursing my youngest was also wrestling the remote and giving in to Peppa Pig for just a few moments of sanity. It was constantly telling my toddler to NOT wake up the baby while she naps and her doing so anyways. It was laying down for a nap while baby naps to only have toddler want to play. Oh and I can't forget the moments I lost my shit. Snapped at the toddler. Yelled. And you immediately feel like a sack of shit. So there. Mommy guilt was real and damn….it was everywhere.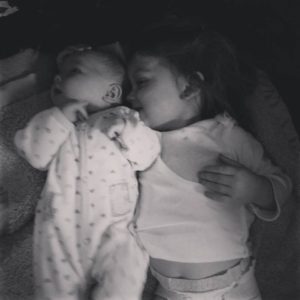 It's a year later now and my youngest now knows how to ask for help, or cuddles or attention. So to have both crying, pulling at you or screaming is enough to make your brain rattle against your skull. But there are the moments where they both run up to you to smother you in hugs and kisses. To curl up at bedtime to read a book or watch a show. I need to ensure I set aside one on one time with each daughter. I need my eldest to know that she is still special and Mommy treasures our time together, and the youngest is definitely feeling slighted and left out at all she can't do.
You're not alone in feeling this way Momma
I think back on that day and I realize that there is still so much mom shame in some of these topics. I know I am not the only mother in the world that felt this way when she had additional children. But I was not expecting it, no one shared with me, no one was real with me. So when this happened I kept thinking something was wrong with me. I was suppose to just automatically rock this mom of 2 bullshit. But I didn't. And that was OK. I'm still not rocking it 100% and I learn something every day. But what I will leave you with is this. Whatever you are feeling, or experience as a Momma, know that you are NOT alone.  There is not ONE mother out there that can't relate. I promise you. You just gotta be able to talk about it, not be embarrassed and more importantly, not shameful. I held it in and realized months later that that shit was not healthy to keep in. Talk. Express. Vent. Just do it. Get it out. You'll be a better Mommy because you did.